On Wednesday 18th August, crime commissioner Amy Tully met with members of the Frenford Youth Club, which is run by fellow commissioner Irfan Shah.
During the visit Amy talked about a recent survey in which over 1,800 local women reported incidents of street harassment and assault, and the need to raise awareness of the issue. The group of 13-16 year olds spoke of their own experiences and the action needed to help them feel safe on the streets.
The event was one of several evidence-gathering initiatives which will inform the recommendations made by the Community Crime Commission to Redbridge Council later this year.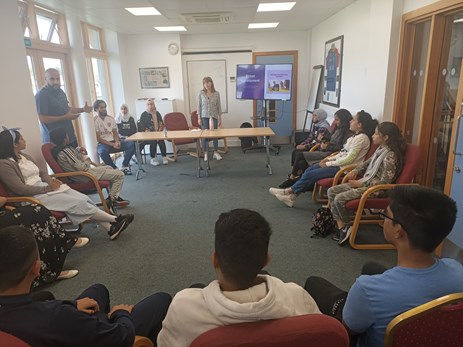 Amy said: 'It is vital that young people's voices are central to efforts to tackle crime in the area, including crimes against women and girls. I was keen to hear about the impact of street harassment on young women, how young men feel about the issue, and their suggestions for ways to reduce the incidents of harassment.
'The Frenford Youth Council is doing some fantastic work and I was inspired by the group's insights and their commitment to making the borough a great place in which we can all live and thrive.'
Irfan added: 'There is so much potential within our young people. It's vital that we listen to their concerns, answer their questions and help them and their friends stay safe. Involving them in the work of the Community Crime Commission is a great opportunity for them to be engaged and to have a stake in the future of the borough, and also for the Commission to find the most effective ways of reducing and preventing crime.'